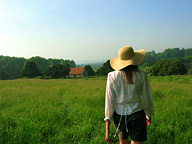 Dorothy on a meadow footpath in Kent.
English Country Walks is a little company dedicated to showing you
the best way to discover England's hidden treasures and secret places.
We offer an exclusive series of walking adventures that take you deep into the heart of rural England. On a day out with us, you'll join a small and friendly group for an expertly guided scenic ramble along idyllic country paths – through landscapes that have inspired Britain's greatest writers and artists. This is England at its most intimate and beautiful. read more ...

Leeds Castle on the Fortress of the Black Swans walk.

Dessert at The Curlew pub on the Bodiam Castle walk.
Along the way, you'll visit ancient castles, magnificent country gardens, grand stately homes, unspoilt nature reserves, and other unique attractions that most travellers just never get to see. You'll also have the opportunity to enjoy a leisurely lunch in a traditional country pub, or a fully catered outdoor picnic.
The cost of each walk includes all roundtrip travel from our meeting point in London, admission to all special attractions on the itinerary, lunch, and the services of a trustworthy guide.
Start exploring now! Browse our list of walks ».
With your own expert guide
Lonely Planet author and cartographer David Wenk founded English Country Walks in 2007, with the aim of encouraging more people to explore Britain on foot. Since then, David has led hundreds of adventurous groups on expeditions throughout the British Isles. His clients say: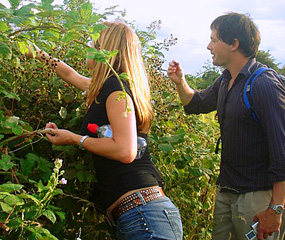 Sophie and David picking blackberries in Essex.
Photo by Laura Broadley.
"We thank you for the photographs and the wonderful daytrip we had together! We look forward to come back and to see you again and to make a trip with you. Hope to see you soon!"
-- Daniel and Aliça, Paris, France
"We had an amazing time. Can't wait for the next trip."
-- Mina Morita, Berkeley, California
"We had a fab day David. Hugely impressed with your knowledge of history, flora, fauna and local pubs. Can't wait to go on another walk soon!"
-- Mike Rothschild, London, England
"We enjoyed all the trips -- particularly your shortcut through the minefield. The pub food was an unexpected treat."
-- Angela and Patrick Nugent, Greensboro, North Carolina
"I would like to thank you again for a great day at the countryside. We often think and talk about this nice day with our friends and family."
-- Kate and Norbert Michels, Hamburg, Germany
"Just talked to family quickly on Skype and wanted to send a quick thank you note. We had such a lovely day, and my dad couldn't stop complimenting you both after we left."
-- Kristin Konnyu, Toronto, Canada
"hi david!! I have just floated back down to earth after that magnificent walk!! it was an experience i'll never forget – i thought country scenes,chocolate box houses, quaint beautiful little pubs,and castles existed only in films and books – it was fantastic to be a part of it! many many thanks – you're truly an inspiration!!"
-- Brenda Koupis, London, England
"Just wanted to say hello. I've been going to send you a note and let you know how much we enjoyed our walk with you and Jeffry last July 4th. We thoroughly enjoyed the 12 mile hike! The Stonehenge hike was the highlight of our trip for me. Thanks for the great walk!"
-- Rick Lynch, Crossville, Tennessee
Concept, design and content ©
David Wenk
2007-2017.